¶Things you find in the kitchen
I've been doing some work in the video capture routines in VirtualDub lately, and when I do that I tend to just grab the nearest video source as fodder. Usually it's the GameBridge hooked up to a PS2 running a random game, but today I grabbed the webcam, so it's time to take pictures of random stuff around the house.
Take, for instance, this knife sheath I found in the kitchen: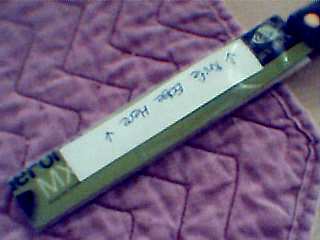 I apologize for the poor quality image — I never said this was a good webcam — but the homemade cardboard sheath says "knife edge here" and there is an NVIDIA logo on it. "GeForce MX" is partly visible and as such I suspect this was the most useful part of the product.
(This is my revenge for the time I got made fun of for using my ATI RADEON X1800 XL, still in its original packaging, as a writing pad.)